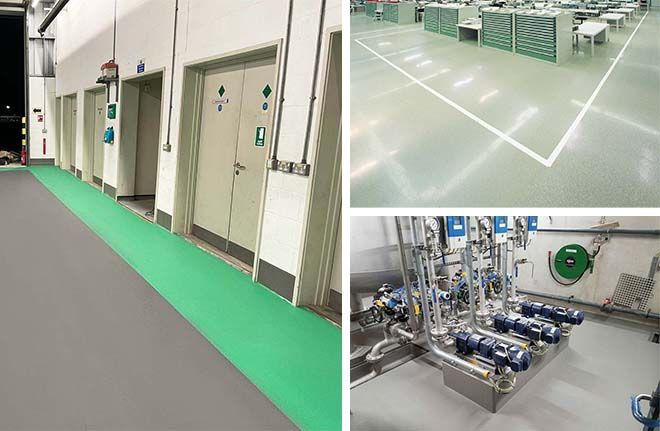 Hard working coatings for hard working floors
Triflex are experts in resin technology. What we know about protecting the built environment has been poured into our industrial flooring range.
We are known for our quality products, ease of application, and outstanding support to professionals who specify or install. And it's no different for our industrial flooring range. Benefit from Triflex resin know-how with a new resin floor in your warehouse, factory, workshop or railway platform.
Our resin flooring solutions are tried and tested to deliver excellent durability under the most demanding of conditions. With decades of experience in high traffic areas, we have solutions for industrial flooring whatever the stresses and requirements, be it from heavy machinery, or thousands of feet or vehicles.
Our liquid resin flooring solutions are strong, durable, and versatile ensuring your floor meets the highest performance for years to come. And with properties that make your industrial floor seamless and impermeable, combining high levels of chemical and mechanical resistance.
Contact us today about your industrial flooring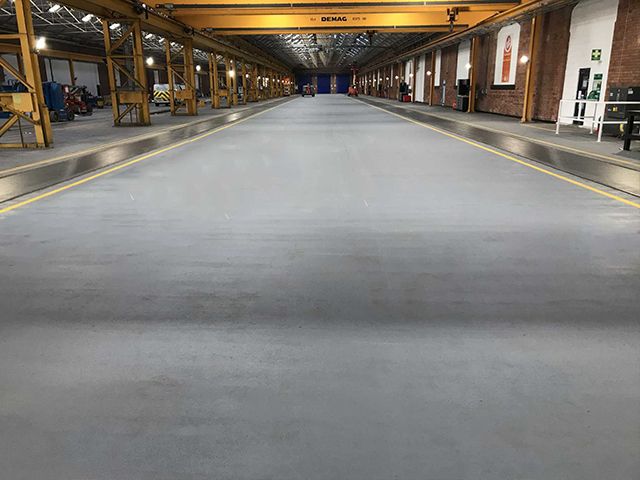 Technical service
At Triflex, we pride ourselves in supporting our Clients and Authorised Contractor Partners, to deliver successful projects that protect over the long term. Based on our experience and with support from our in-house technical team, our experienced Field Technicians offer substrate assessment and testing for:
Surface preparation requirements

Adhesion in accordance with EN 1542

Slip resistance in accordance with UKSRG Guidelines: 2016

Moisture content through non-destructive electronic methods

Outgassing potential in cementitious substrates

Sample installations
Getting your industrial flooring specification right
Our job is to make sure that you get the right solution. Our systems are based on extensive research and development, but helping you get the right flooring is about far more than this. From day one of your project, we will work with you to get the specification that meets your industrial flooring needs. This involves:
Consultation: We will listen and work with you towards a solution right from the first enquiry
Survey: Our team will carry out a thorough on-site condition survey
Testing: If needed we will conduct adhesion, cohesive strength and other testing
Specification proposal: After evaluating your project, we will provide you with a comprehensive bespoke specification, inclusive of Triflex rapid curing repair materials where required
Installation: We only work with our network of Triflex Authorised Contractors and we can provide on-site support
Warranty:

 

Our solutions are underpinned by meaningful warranties backed by insurance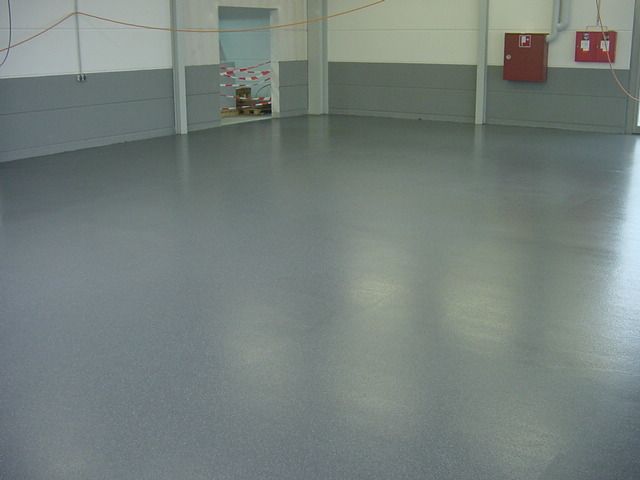 Safe year-round application
We have a range of resin flooring options tailored for internal and external environments.
Triflex utilises solvent free epoxy resin technology that cures without the additional need for ventilation, making it ideal for environments that are fully enclosed.
Need a rapid solution? Triflex's industry leading PMMA solutions are ultra-rapid curing even at low temperatures, so can be installed at any time of year. Already proven and ideally suited for external environments, internal industrial settings just require sufficient natural or forced ventilation for the curing process of your PMMA resin flooring. No element of the PMMA build-up however takes longer than 60 minutes to cure, regardless of the external temperature. The finished system can be walked on after just an hour and is able to withstand stress after two, causing minimum disruption and allowing facilities to re-open faster.
These two Triflex technologies can of course be used together, to achieve the best combination of properties, balancing speed of installation with a competitive cost.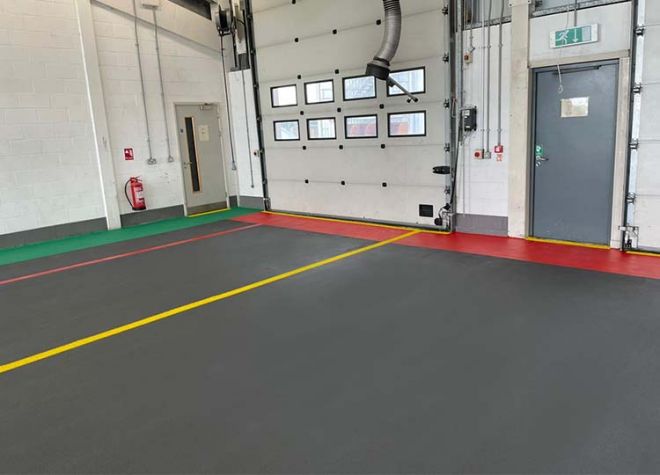 Meaningful warranties backed by insurance
Triflex systems are thoroughly proven, tested to the highest standards and demonstrate exceptional reliability. Our systems are only installed by our network of fully trained and Authorised Contractor Partners. You can rest assured that our products are not only installed to the highest standards, but where possible are also guaranteed and backed by reputable insurance to give peace of mind for years to come.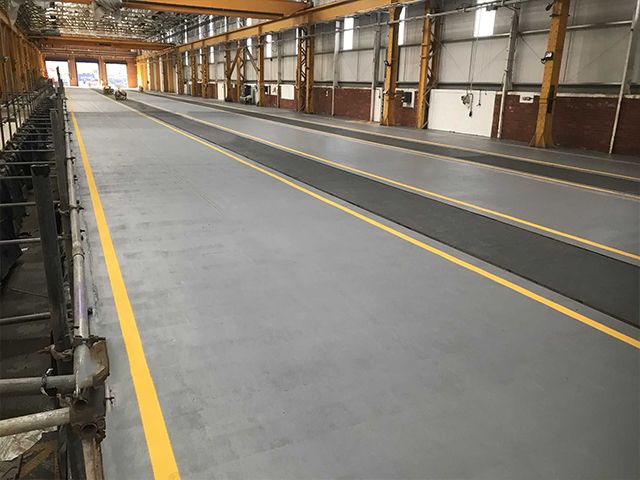 Markings
Often industrial floors benefit from line markings, deck signage and walkways to increase safety, wayfinding and identify individual workspaces. Designed for compatibility with our industrial flooring systems, Triflex markings are characterised by their high mechanical strength, long service life and resistance to contamination. Production under the standards defined in ISO 9001 guarantees consistent levels of quality. A number of colours are available for the design of your resin industrial floor, for optimal guidance and safety.
Triflex markings offer:
High resistance to mechanical loads

Exceptional service life and resistance to soiling

Highly visible, reliable guidance systems

NightLine luminescent variants for increased safety and guidance should lighting fail
Learn more about our markings and coatings