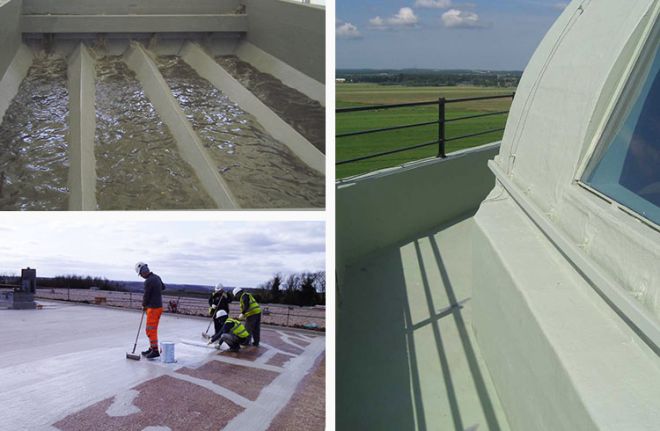 Long term resilient protection to water industry structures
The protection of clean water is critical to the water industry and it is vital that structures which contain and store clean water are adequately waterproofed and durably protected from external contamination. The majority of these structures feature steel reinforced concrete which needs to be protected from corrosion.
Structures such as storage reservoirs and water towers in particular are significant and common assets to the water industry and require effective and rapid industrial waterproofing solutions to minimise disruption and down time and to keep them in peak condition.
At Triflex we have cold liquid applied systems and solutions ideally suited to protecting these valuable assets efficiently and for the long term. Our systems are designed to waterproof and protect large areas, complex shapes including domed roofs, and details, no matter how intricate, and on nearly every type of substrate.
Our fully reinforced, BBA and ETA certified systems have been tested on over 7,000 different substrates ranging from bituminous materials to single ply membranes and Triflex has successfully overlaid more than 2 million m² of asphalt in the UK alone. This exceptional compatibility allows Triflex systems to overlay virtually all failed waterproofing membranes, saving the associated time, costs, disruption and implications on landfill of the removal of existing waterproofing systems.
Thanks to our systems totally cold applied application process there is no need for hot works. Installation can even be carried out all year round, with systems that cure at temperatures down to -5°C with no significant extension of cure times.
Durable, long term structural protection

Compatible with virtually all existing substrates

Elastomeric and dynamic crack bridging - designed to provide long term waterproofing to existing and unforeseen future cracks

BBA and ETA certified performance with FLL certified root and rhizome resistance

Resistant to breakdown by water (hydrolysis resistant)

Cold liquid applied – no need for hot works during application

Rapid single layer application with curing in as little as just 45 minutes, even at low temperatures

Can be applied at any time of year, in temperatures as low as -5°C, and there is no need to close down facilities

UV and IR resistant

Solvent and isocyanate free

Waterproof down to the smallest detail
Waterproofing and surfacing solutions
for the water industry.
Long term resilient protection to
water industry structures.
The effective protection of these assets is absolutely critical to the provision of clean water to our homes and industry.
Triflex solutions are ideal for the complete waterproofing of reservoir roofs whether it's a refurbishment or a new build. They can also be used for planned maintenance or emergency overbanding repairs to issues such as cracks, splits or localised failures in the existing waterproofing.
Our systems can be applied direct to concrete or other existing waterproofing such as asphalt without removal. Once installed the systems are UV resistant and designed to be left fully exposed. Many traditional solutions involve protection membranes, filter layers, drainage layers and ballast which can often not be re-used. With Triflex this overburden can be fully omitted resulting in savings in both cost, time, disruption and crucially waste.
Triflex is familiar with the challenges associated with the waterproofing of a vast variety of structures. With over 40 years' of experience, our solutions are used for waterproofing everything from the most simple flat structures to the most complex of structural forms.
Water tower roofs are similar in many respects to reservoir roofs and are subject to the same harsh forces of nature. They are however often more complex with domed roofs commonplace. With Triflex seamless solutions, these domes present no issue from a waterproofing perspective. Our systems are designed to be used to seamlessly waterproof around penetrations, vents, windows balustrades, hand rails, hatches and even high vertical parapet and other walls. In summary we can create a totally waterproof envelope covering all details and potential points of ingress.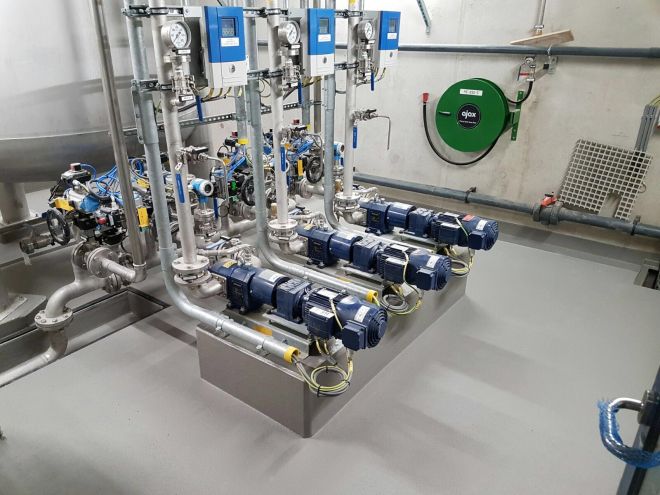 Solutions for pipes, plant and technical rooms and detailed areas
Whether you require remedial works or waterproofing and or surfacing of a new installation, we can provide you with the right solution that's waterproof down to the smallest detail. By combining our unique resins with high tensile strength fleece reinforcement our solutions can be shaped to suit any form, waterproofing even the most complicated of details. Our systems provide the ideal solution for plant and technical room floors, bunds, and details, including upstands, plinths, pipes and penetrations.
Find out more
Wastewater treatment plants in the water industry must handle some of the most corrosive and aggressive liquids and solids in process engineering. Assets within the wastewater industry are continually exposed to high concentrations of both organic and inorganic compounds, sewage and industrial waste, corrosive chemicals, solids and microbiological organisms of all forms, as well as various gases. The whole infrastructure is subject to corrosion influences.
Triflex waterproofing, surfacing and coating systems are highly resistant to chemical influences and the severe conditions that occur above and below the water line in wastewater treatment assets such as clarifiers, and can withstand exposure to a variety of chemicals in bunds. Please contact us for suitability for specific applications.
Triflex solutions have been used for a variety of biogas digester applications ranging from the full and partial overlay of concrete digester roofs to internal joints within stainless steel digesters at their interface with the concrete base. We have also provided solutions to line and waterproof Biogas spill / overflow chambers.
Many slurry tanks feature pre-cast concrete panels with grouted joints which can be prone to failure. Triflex has developed solutions combining primers designed to deal with very high moisture contents in conjunction with our fully reinforced fleece waterproofing to the joints in combination with a rapid curing, spray applied treatment incorporating internal carbon fibre reinforcement.
Solutions for a wide range of application areas
Triflex systems are compatible with virtually all substrates likely to be encountered in the water industry. Our systems accommodate movement and cracking within the structure and at interfaces between materials with different coefficients of thermal expansion.
Triflex is the ideal solution for a wide range of applications including:
Reservoir roofs

Water tower roofs

Plant and technical rooms

Details and penetrations

Bunds

Clarifiers

Spill / overflow tanks

Slurry tanks
Safe year-round application
Triflex cold applied waterproofing and surfacing systems can be installed at any time of year and for details at temperatures as low as -5°C. The curing process typically takes about 45 minutes regardless of the external temperature and given our inclement weather are typically rainproof within 30 minutes. The systems do not contain solvents or isocyanates, pose no fire risk during application and offer the highest levels of fire resistance once installed.
Getting your waterproofing specification right
The majority of water industry structures are built using steel reinforced concrete and can incorporate overlay materials such as asphalt, felt and single ply with interfaces with metals, plastics and other materials.
Our job is to make sure that you get the right solution to ensure a fully tested and compatible, fully seamless solution to overlay the various substrates. Our cold applied waterproofing and surfacing systems are based on extensive research and development, but helping you get the right answer is about far more than this. From day one of your project, we will work with you to ensure the specification proposal meets your needs. This involves:
Consultation. We will listen and work with you towards a solution right from the first enquiry
Survey. Our technical team will carry out a free of charge thorough on-site condition survey
Testing. If needed we will conduct free of charge core, adhesion, cohesive strength and other testing
Specification proposal. After evaluating your project, we will provide you with a comprehensive bespoke specification proposal
Installation. We only work with our network of Triflex Authorised Installers to ensure the highest quality installation

Site support.

We provide on-site support and quality control where required

Warranty.

Our solutions are underpinned by meaningful warranties backed by insurance