Triflex marking and coating products provide solutions that are tough, durable, rapid curing and as with all Triflex materials, they are totally cold applied. Our products offer a simple, single process application, with the majority curing in around 30 minutes even at temperatures down to 0°C. Once fully cured the products provide a tough, hard wearing solution and are available in a significantly wider colour range than traditional materials.
Triflex marking and coating products provide outstanding adhesion to a wide variety of substrates, offering superior performance to thermoplastic solutions. It's clear to see why Triflex marking and coating products are the ideal choice when specifying for car parks, service areas, shopping centres, retail parks, airports, offices, roads, highways and other application areas needing ultra-durable solution with a rapid turnaround.
Marking and coating products
Rapid curing, cold liquid applied and built to last markings and coatings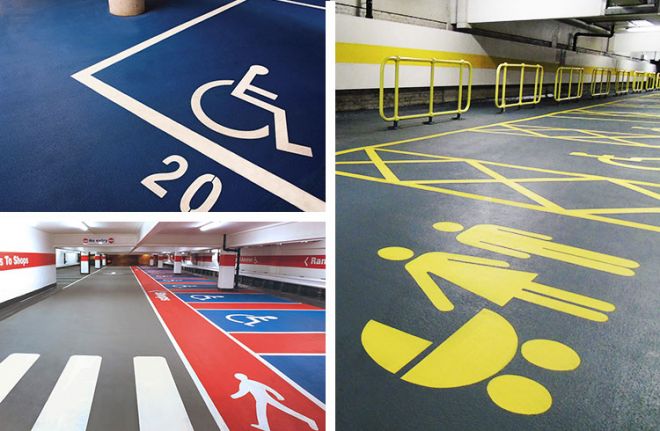 Solutions for car parks and outdoor areas
In simple terms, poor markings can lead to accidents. If driving lanes have poor directional signage or pedestrians do not know where to walk or cross, it may result in or contribute to accidents. With many car parks in use 24 hours a day, the visibility of the markings in both wet and dry conditions is vital to their effectiveness.
Through the use of high quality, durable Triflex marking systems with a wide range of colour options, the risk of accidents can be minimised.
In addition, with Triflex markings colour is no longer restricted to just white or yellow, with a wide variety of colours allowing creativity in design and even matching to corporate colours or branding.
Triflex have car park marking solutions for:
Car park line markings

Car park signage e.g. arrows, pedestrian crossings, stop zones, give way signs, lettering and symbols

Parking bays

Blacking out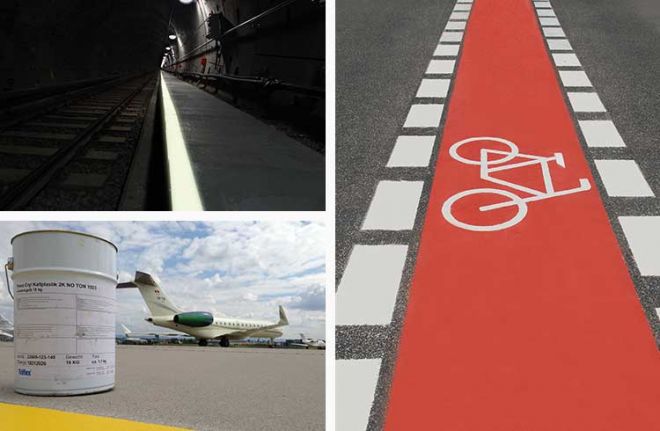 Transport industry and safety markings
Solutions for mass transit infrastructure
The need for clear delineation is paramount to the transport industry as they can help to ensure that passengers remain safe. Triflex has specific experience and solutions ranging from airport markings to rail platform markings.
With a vast amount of colours to choose from and drying times of around 20 to 30 minutes, Triflex marking systems are ideal for areas within the transportation industry. Allowing markings to be applied and trafficked quickly without discruption areas to be completed rapidly without disruption.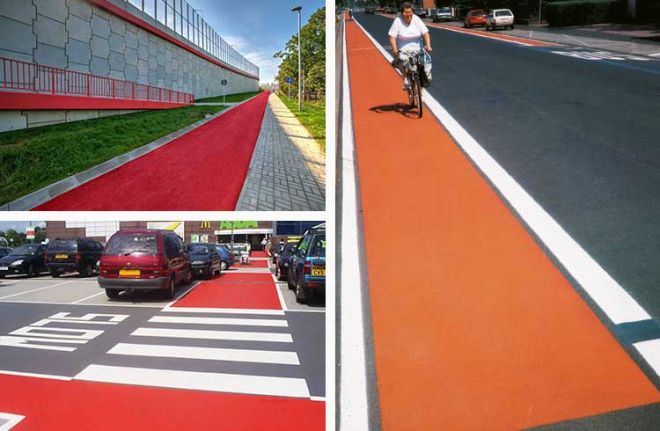 Cycle lanes and footpaths
Coating products for cycle lanes, walkways and footpaths
Whether your primary concern is safety or aesthetics, we can meet your needs. Our coating solutions offer high levels of long-term skid resistance in wet and dry conditions, providing a safe and reliable solution for cyclists and pedestrians.
Our marking systems are also available in a wide range of colours and can even be colour matched, allowing walkways to match your branding or simply be highly visible.
Triflex Roll Plastic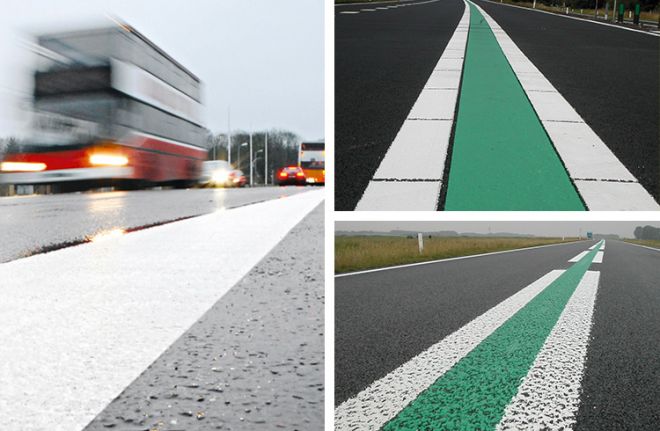 Solutions for roads and highways
Every day great demands are placed on roads and motorways as a result of the increasing volumes of both car and HGV traffic, weather conditions and mechanical loads. At the same time, we are looking for increased levels of safety, placing extremely high demands on the marking system in both wet and dry conditions. A road and highway marking solution should be durable, quick to apply, and able to withstand the most challenging of environments.
Our marking systems are characterised by their high mechanical strength, long service life, exceptional levels of testing and their track record on some of the most demanding roads in Europe. With Triflex, there are no limitations to what you can achieve. Triflex marking solutions offer a wide range of colours with bespoke colours produced to order.
Triflex marking systems are used and proven around the world. In fact, Triflex marking systems are the market leader in Germany and have been used extensively on the German autobahn and road network for the last 25 years.
Triflex Line Cold Plastic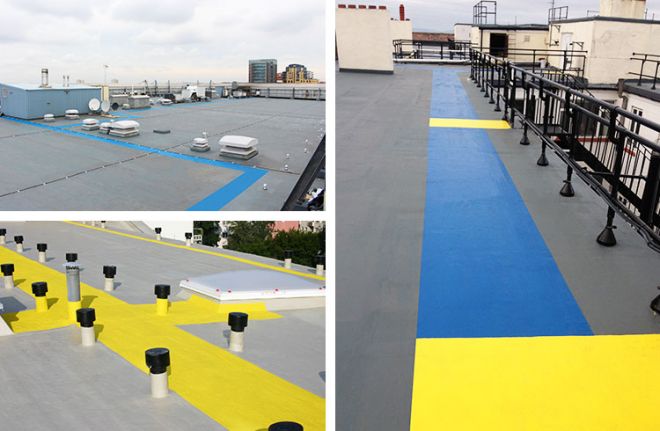 Looking for a roof marking solution? Look no further.
Triflex SafetyCoat is a stand-alone, fast curing, cold liquid applied, coloured coating system and is the optimum solution for roof markings, walkways and signage. Marking systems for roofs are often required not only for Health and Safety but also for aesthetics. Triflex SafetyCoat is the ideal marking system for roofs, giving workers the reassurance of safe, non-slip access to all roof services.
Triflex SafetyCoat
Exceptional levels of compatibility
We understand that you want to find the best value, lowest risk, solution which has been specifically engineered for your project and our aim is to help you achieve this. Our marking systems are suitable for a variety of substrates, including:
Asphalt including Hot Rolled Asphalt (HRA) and Stone Mastic Asphalt (SMA)

Tarmac / Tarmacadam / Macadam

Fresh asphalt including HRA and SRA

Fresh Tarmac / Tarmacadam / Macadam

Concrete

Existing markings

Pavers / brick paviours

Granite

Coatings (e.g. polyurethane, polyurea, polymethyl methacrylate, epoxy)

Metals
Find out more about our on site support