Our tried and tested cold liquid applied waterproofing and protection systems have been protecting the built environment for decades. 
The specially developed Triflex Towersafe wind turbine foundation coating system delivers unique polymethyl methacrylate (PMMA) resin expertise to onshore and offshore wind turbine waterproofing and protection. Proven in the harshest environments, the advanced polymer coating offers superior defence to minimise ongoing wind turbine maintenance.
And as specialists in waterproofing flat roofs and details, we have waterproofing systems enabling the rapid and durable waterproofing of Photovoltaic (PV) structures installed on flat roofs.
The specialist in onshore and offshore wind turbine protection
Wind turbines exploit the forces of nature and give us clean, renewable energy. In the process, the tower, foundation and joints are exposed to the force of the wind and constant movement of the structure, in the harshest of environments. The strong deformation forces can encourage cracks to form which allow moisture to penetrate. This can lead to long-term damage from freeze-thaw cycles as well as chloride (salt) corrosion.
Triflex Towersafe is a waterproofing system specially developed for wind turbines with a high tensile strength fabric reinforcement. Its liquid form allows upstands, joints and even complex details, like bolt cage foundations, to be waterproofed leaving no seams or joints. We provide wind turbine manufacturers and operators with a quality technical solution of the highest standard.
Multiple applications
Triflex Towersafe is not only an excellent waterproofing solution for wind turbine foundations and joints, but it is also the ideal choice for nacelles, transformer buildings and even blade roots.

The root and rhizome-resistant Triflex Towersafe is also suitable for use in areas covered by soil and vegetation, with a non-slip finish and multiple colour options available.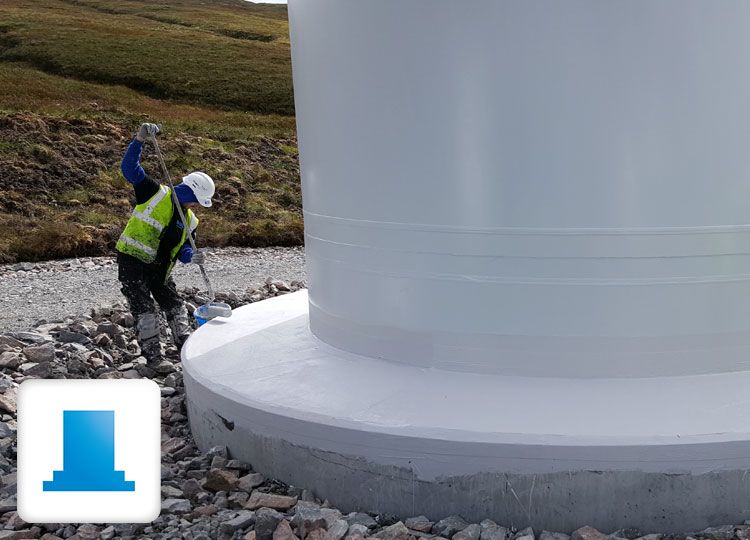 Foundations can be protected for the long-term.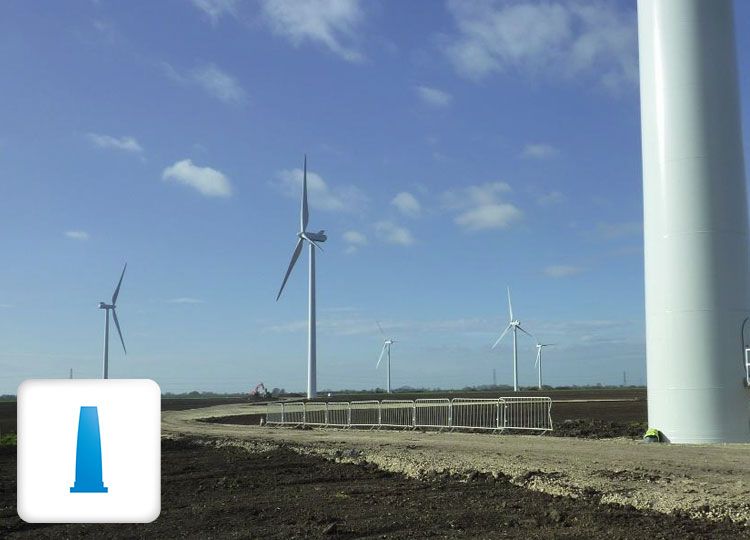 Triflex Towersafe can be used to protect the flange and joints in the steel wind turbine structure.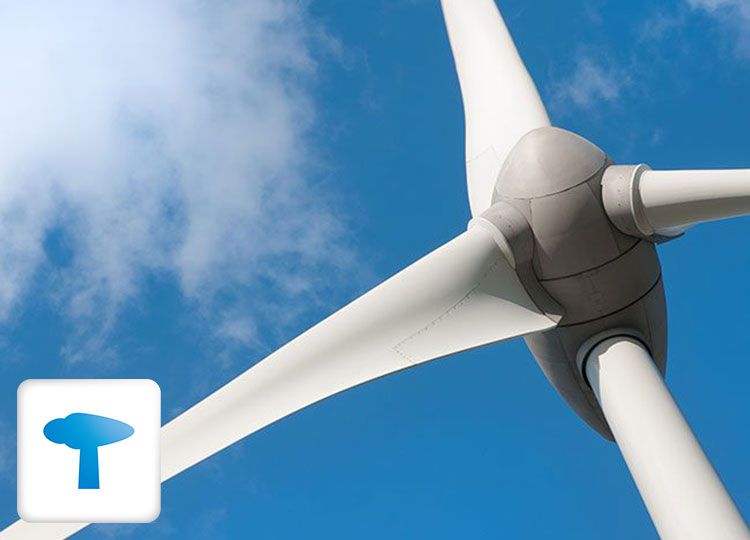 Nacelles can be protected from the elements, together with specialist solutions for the blade roots and other detail areas.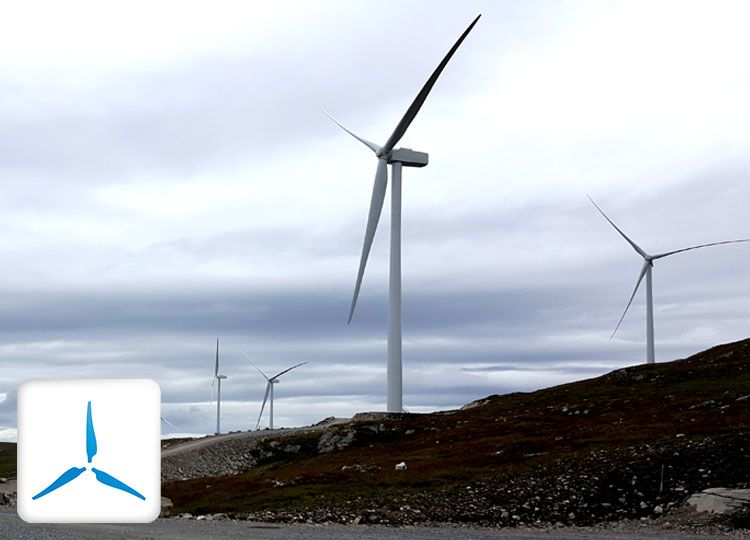 Specialist solutions are available for both coating new blades and for blade refurbishment.
Specially formulated for wind turbines and universal application
The only specialist wind turbine waterproofing with BBA certification
European Technical Approval with CE mark
FLL certified as Root and Rhizome resistant
Fully reinforced system for long term protection
Single process application
Fast installation with rapid cure technology, even in low temperatures
Waterproof down to the smallest detail
Versatile and customised variants
Specified and used by OEM wind turbine manufacturers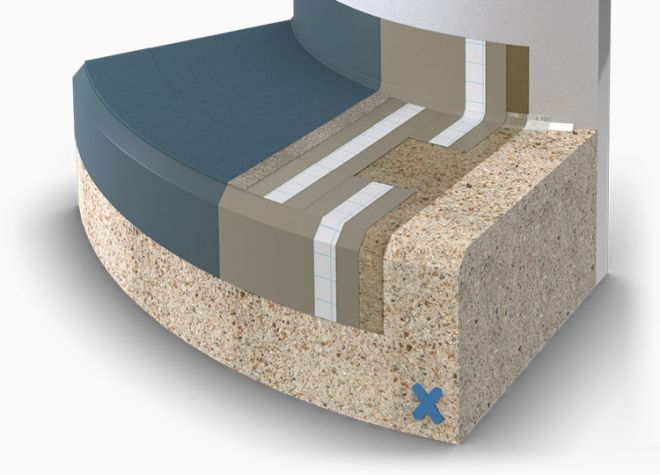 Triflex Towersafe is the ideal tower and foundation waterproofing system for wind turbines.
View system overview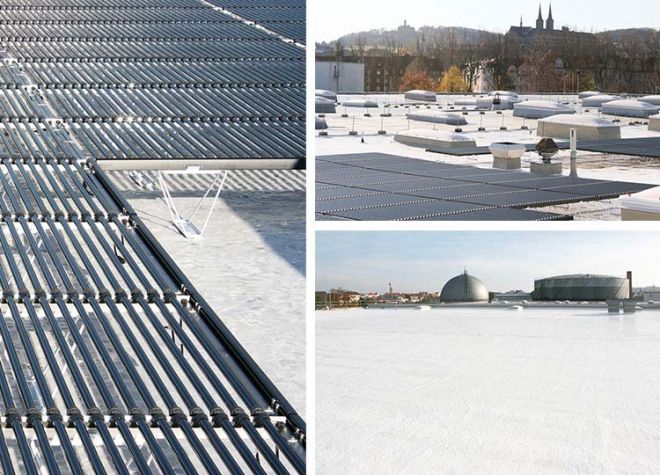 Photovoltaic (PV) panels and flat roofs
Increasingly solar PV panels are used as an energy source on a range of buildings. Where installed on flat roofs, they can be fixed using either a mechanical fixing, or ballasted.
Where mechanical fixings are used, one option is to mount the solar panels on an A frame or PV racking system at an angle of between 20 – 50 degrees. Here, the PV panel support structure is secured to the roof, which involves penetrating the roof covering to secure the PV mounting system. Mechanical fixing is acknowledged to be a secure method of fixing the solar PV panel, lessening the vulnerability to wind lift. However, it also means that the flat roofs' waterproofing has been compromised, and reinstatement must be made.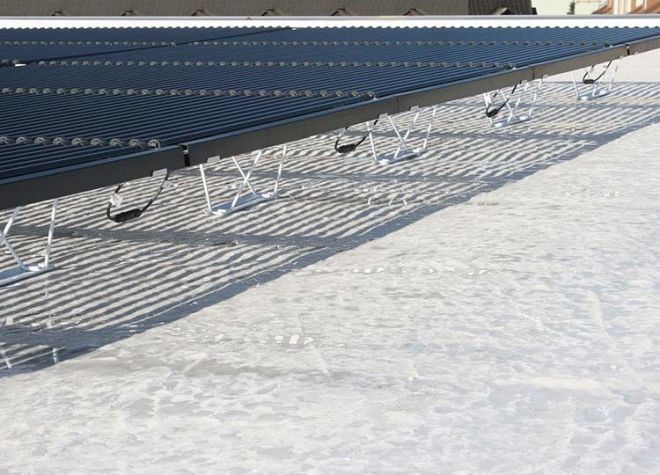 Rapid detail waterproofing for efficient programme of works
Roof penetrations are typically the most vulnerable areas to water ingress. Triflex have proven solutions for waterproofing around roof penetrations. Our Triflex ProDetail and Triflex ProFibre cold liquid applied PMMA waterproofing products have been developed especially for roof penetrations, upstands, gutters and roof details.
Tried and tested on more than 1,400 substrates you can be confident that they will provide lasting protection whatever the flat roof waterproofing system the PV panels are installed on. Incorporating PMMA resins, they are ultra fast curing, in less than an hour, even down to winter temperatures of  -5°C. The simple, single coat application means that the seamless waterproofing is quick to install; a bonus with a potentially large number of details and penetrations to waterproof. And, as they are rainproof in 30 minutes, you can complete the job efficiently without compromise.
Self terminating and suitable for the smallest detail, they offer exceptional movement accommodation and puncture resistance for a long lasting and durable solution.