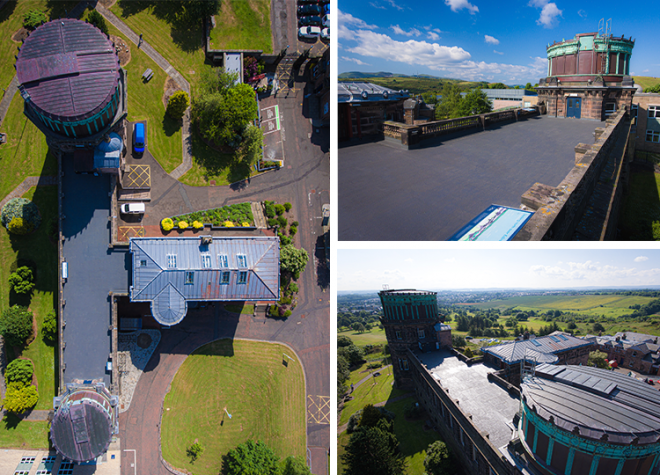 The existing asphalt roof was failing, with some blistering evident and signs of water ingress. Together with the Facilities Manager, Triflex Authorised Contractor and Triflex team, an overlay of cold liquid applied waterproofing was specified as the best solution, with the Triflex ProTect system meeting the sites specific needs.
The Triflex PMMA waterproofing and protection systems have been used to overlay over 2 Million m2 of asphalt to date, and is well proven to adhere to this substrate. However, testing was required for adhesion to a previous unidentified coating that had been applied to the upstands. Following testing, Triflex ProTect, Triflex ProDetail and Triflex ProFibre were confirmed as suitable for the Royal Observatory roof, upstands and penetrations.
Repairs were required to the damaged asphalt areas, and some restoration of the surface where previous plant had stood and indented the existing asphalt through weight compression. These were rapidly completed with Triflex PMMA repair products. Cured in under an hour, this ensured that the Triflex ProTect waterproofing system could be applied very soon after, facilitating a fast moving programme of works.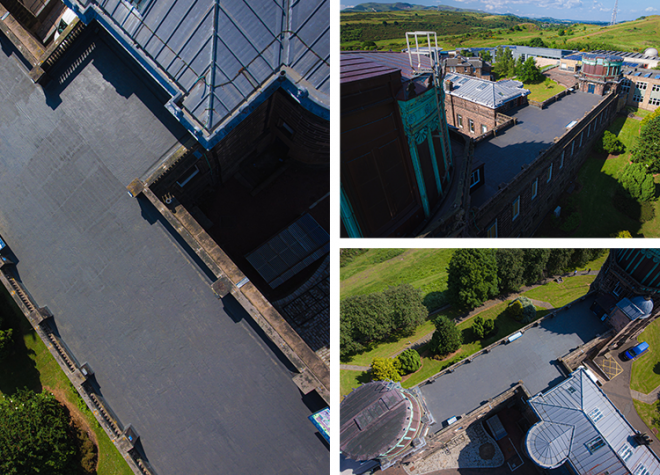 With three access points, the roof benefited from an embedded quartz surface ensuring the highest levels of anti-slip resistance across the whole flat roof area. This was achieved with Triflex ProTect with heavy duty finish. In addition, the challenge of keeping access open was met thanks to the Triflex system's ultra-rapid curing and single application method. Triflex ProTect full system application is possible in a single day. This, coupled with a zonal approach to the large roof area meant that there was little disruption throughout the works to the building's occupants.
Triflex is self-terminating. Mindful of such a historic building, the application of Triflex ProDetail and ProFibre required no cutting of the roof structure. It's reinforced thixotropic liquid formula means that it is suitable for upstands and detailing. Consequently, the integrity of the historic roof walls and parapets was maintained without compromising the robust waterproofing properties.
The works were carried out in the winter months, unaffected by low temperatures due to the rapidly curing, advanced properties of the Triflex ProTect system.