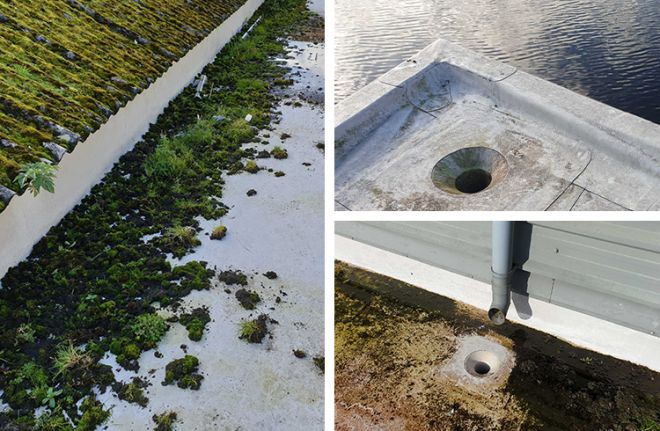 Potter's Quay, Belfast, before overlay
The roof on Potter's Quay Business Centre in Belfast, with its original single-ply membrane covering, was beginning to show signs of nearing the end of its serviceable life. The client required a cost-effective waterproofing solution that would provide protection for years to come.
Initially it had been agreed that the solution would be to remove the existing single-ply membrane roof covering and replace like-for-like. However, a more timely and cost effective option was proposed using a tried and tested Triflex overlay solution. With minimal repairs, the current single ply membrane substrate could be overlaid with the Triflex ProTect waterproofing system, not only leading to less disruption to the office below, but also (considerably) reducing installation time and the risk of any water ingress.
Current building regulations for Northern Ireland covered within Technical Handbook F2 state that should in excess of 50% of the roof area be repaired or replaced, then the roof should be thermally upgraded. A comprehensive survey of the roof was carried out by Triflex to assess its condition and to help provide a detailed Triflex specification proposal.
Following core testing conducted by Triflex field technicians on site, it was identified that the existing build up was a bonded single ply system. The tests revealed that there were areas of delamination of the membrane and water damage to the insulation, affecting the performance and bond to the deck.
Potter's Quay, Belfast, after overlay with Triflex ProTect
The comprehensive Triflex survey equated to a need to remove approximately 20% of the roof insulation. As a result, Triflex were able to suggest a partial replacement of the insulation. This was to the same depth and U-value of the existing roof build up coupled with an overlay of a Triflex system to the 700m² roof area. With the client's budget considerations in mind for the selection of a suitable waterproofing solution, this proposal identified a key cost saving. By leaving the insulation in-situ, and most of the roof covering intact, the cost of overlaying with a Triflex system was far less expensive than removing and replacing like-for-like. It also reduced the risk of opening and exposing the roof and the subsequent office space below to rainfall during the works.
From a design perspective, the roof had a large, cantilevered perimeter with a very shallow profile. By overlaying, we were able to maintain this thin line around the perimeter. Had a full thermal upgrade been required, the thickness of the profile would have needed to have been increased by around 160 mm.
Due to its exceptional and tested compatibility with single-ply, Triflex ProTect was specified.
Triflex ProTect is a fully fleece reinforced system based on the most advanced PMMA resins that is both BBA and ETA certified and has the additional advantage of being completely solvent free. The cold liquid applied system provides a seamless, reliable solution that has been tried and tested under some of the harshest conditions. Due to the system's ultra-fast curing abilities, it is rainproof in as little as 30 minutes and can be installed in temperatures down to 0°C allowing works to be completed even in cold winter months.
Triflex ProDetail was also specified as a specialist system to waterproof detailed areas. Triflex ProDetail is a fleece reinforced system that is ideal for waterproofing upstands, gutters and roof penetrations due to its thixotropic formula, allowing it to be installed onto vertical surfaces. The system is also protected from ponding water due to its hydrolysis resistant properties, meaning it will not degrade over time.
The high quality installation by GBS Roofing Ltd of the Triflex system ensured that the Potter's Quay Business Centre in Belfast has a cost effective waterproof solution and has also reduced wastage by extending the life of the existing roof.  And with a trusted, proven, and warrantied system, they can rest assured will do so for many years to come.